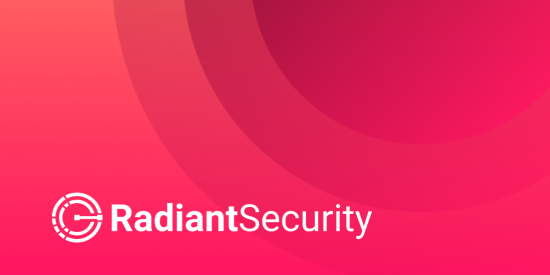 Fresh off the launch of its SOC co-pilot, the company will utilize the funding to expand the team and drive technical innovation in the market
November 14, 2023 09:00 AM Eastern Standard Time
SAN FRANCISCO–(BUSINESS WIRE)–Radiant Security, a pioneering force in AI-enhanced security operations solutions, today announced the successful closure of a $15 million Series A funding round. This strategic financing, led by Next47, reaffirms the soaring demand for cutting-edge, AI-based solutions that address the longstanding challenges faced by Security Operations Centers (SOCs).
In addition to Next47, the funding round included participation from all previous investors, including Lightspeed Venture Partners, Acrew Capital, Uncorrelated Ventures, and Jibe Ventures. In addition, the company's Series A welcomes a new investor, General Advance.
"This influx of capital will enable Radiant Security to push forward its innovation and further develop cutting-edge technologies," commented Shahar Ben-Hador, CEO and co-founder of Radiant Security. "We plan to expand our engineering and go-to-market capacity to bolster our position as a frontrunner in the rapidly-emerging AI-enhanced security operations market."
Next47's security investor, Moshe Zilberstein, commented, "Radiant Security's vision aligns seamlessly with the evolving landscape of cybersecurity. Their innovative approach and dedication to addressing longstanding security challenges make them a valuable partner to their customers. We are excited to lead this funding round and support their journey towards redefining security operations."
Solving Complex Security Operations Use Cases with the Power of AI
Today's SOCs employ dozens of tools to help safeguard their environment from attacks and these tools generate so much noise that it's nearly impossible for analysts to keep up. While security analysts spend countless hours performing the same tedious, time-consuming tasks over and over, they still barely scratch the surface. This model is both demoralizing and ineffective due to a reliance on human effort— a particularly scarce resource in the cyber community.
In response, SOCs are increasingly turning to AI-enhanced solutions like Radiant Security's SOC co-pilot, for relief, aiming to empower analysts to complete their workloads and level the playing field with cyber attackers. The SOC co-pilot is an ideal fit for SOC workloads due to its scalability and ability to analyze extensive, disparate data sets. The solution is a powerful assistant whose role is to amplify analyst productivity by automating laborious tasks like alert triage and incident investigation, delivering decision-ready results. This forms the core of Radiant's innovation and the results speak for themselves:
Kyowa Kirin – Realizing Value Within Minutes
Kyowa Kirin, a global specialty pharmaceutical and biotech leader, initially purchased Radiant Security to enhance SOC analyst productivity for its North American operations. After a simple installation, Radiant's SOC co-pilot identified and escalated a potential threat within two hours. Armed with an AI-generated incident analysis and response plan, as well as one-click remediation capabilities, Kyowa Kirin's analyst swiftly contained and resolved the threat, preventing further escalation. Eric Sanchez, Global CISO of Kyowa Kirin, said: "Radiant Security is a valuable partner, helping safeguard our organization, enabling swift and effective responses, and reinforcing our commitment to security excellence."
RFA.io – A New Approach to Managed Security Services
RFA, a leading Managed Service Provider (MSP) specializing in IT, cloud, and cybersecurity services for the financial sector, has entered a game-changing partnership with Radiant Security. "By integrating Radiant's AI-powered SOC co-pilot into our internal SOC, RFA is now leveraging AI to provide unmatched security outcomes in terms of capacity, speed, and accuracy," remarked Grigory Mils, CIO of RFA. "This partnership marks the beginning of an entirely new approach to delivering managed security services and it reflects our commitment to leading-edge technology and innovative solutions for our clients."
About Radiant Security
Radiant Security, led by a team of cybersecurity industry veterans who played pivotal roles in the success of companies like Imperva and Exabeam, offers an AI-powered security co-pilot for Security Operations Centers (SOCs). Radiant enables SOCs to harness the power of AI to boost analyst productivity, detect more real attacks, and slash incident response times from days or weeks to minutes. Deployed in minutes via API, Radiant Security provides rapid time to value and immediately reduces analyst workloads by as much as 95%.
Media Contacts